Michigan head coach Jim Harbaugh has made many headlines in the past few years. He created a media frenzy with his decision to return to Ann Arbor for the 2015 season, but his coaching talent was proven undeniably during his previous years coaching at Stanford and in the NFL.
1) Harbaugh's father, Jack, played college football at Bowling Green State before eventually become the head coach at Western Kentucky from 1989-2002.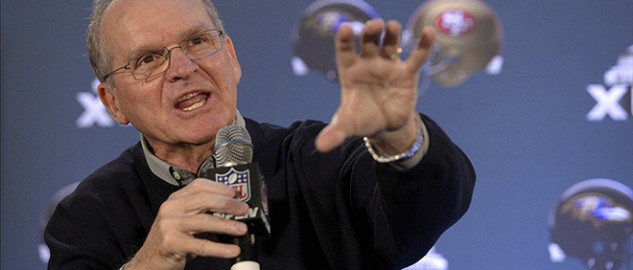 sportsbyline.com
2) During Harbaugh's senior season at the University of Michigan in 1986, he won the Rose Bowl and finished third in the Heisman Trophy voting.
pinterest.com
3) Harbaugh was the 26th overall pick by the Chicago Bears in the 1987 NFL Draft.
wbez.org
4) In 1995, Harbaugh earned his only Pro Bowl Selection when he led the NFL in passer rating and carried the Indianapolis Colts to the AFC Conference championship before losing to the Pittsburgh Steelers.
colts.com
5) In his first three seasons as an NFL head coach, Harbaugh led the San Francisco 49ers to three straight appearances in the NFC Championships games and Super Bowl XLVII.
nypost.com
6) Harbaugh and his brother John were the first siblings to serve as NFL head coaches. John Harbaugh coaches the Baltimore Ravens.
7) In 2013, the Harbaugh brothers became the first siblings to coach against each other in Super Bowl XLVII.
heavy.com
8) At the end of the 2014 season, Harbaugh left the 49ers after reported clashes with the team's front office. The organization and the coach mutually agreed to part ways in December.
9) Harbaugh signed a seven-year contract to return to the Michigan Wolverines to coach. His salary amounted to at least $5 million a year plus incentives.
thebiglead.com
10) Harbaugh has the fourth highest salary of any college football coach.
11) Jim Harbaugh is famous for sporting "dad pants" while coaching on the sidelines of every football game. He gets the $8 khakis at Walmart, and his addiction is so bad his wife Sarah even addressed them in a commercial for Dockers.
blacksportsonline.com
youtube.com