Many years have passed since Hall and Oates were at their prime, but that has not stopped fans from continuing to discover their music and adore them. Here are 10 facts about Hall & Oates that remind us why they're still so so awesome after all this time.
1.) In the 80s, the duo began producing their own music a few blocks from their New York apartments because they did not like how how their music sounded when recorded in Los Angeles.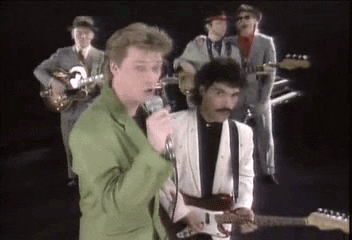 2.) They made bad music videos on purpose. Oates has said he didn't like having to act just to please a new audience…. and he wasn't very good either.
3.) After his divorce in the 80s, Oates did not go off the rail. Instead, he shaved off his mustache, which he said was symbolic of leaving his past behind; sold all of his stuff; and moved out to Aspen, Colorado to get his life back together.
4.) They met when they were playing a show in separate bands in Philadelphia. A knife fight broke out as the two first met which caused them to flee to a coffee shop where they talked for hours and the duo was formed.
5.) They were some of the first clients of Tommy Motolla's. A man who later became a legend in the industry.
6.) In the 70s, there was a contest that if you found a specific gum wrapper Hall and Oates would come and play in your cafeteria. Hall & Oates didn't mind.
7.) In order to win the heart of stewardess Sara Allen, Hall wrote and played the song "Sara Smile" for her one evening at a baby grand in his house.
8.) They made the cover of their album "X-Static" a picture of a radio in a wet plastic bag just because they felt like it and have never been able to explain why they chose that.
9.) When they were at their peak, they agreed that they could only go down hill from there so they both took a hiatus, which ended up immortalizing them at the successful point.
The Duo. The Men. The Legends. Hall & Oates may not be as well known as they once were but they are still undoubtedly one of the greatest R&B Duos of the 70s-80s.